Aicok AMR 526 Wide Mouth 3-Speed Centrifugal Juicer
If you are looking for a juicer that will create juice for you in seconds, then the Aicok AMR 526 Wide Mouth 3-Speed Centrifugal Juicer is perfect for you. You can be drinking delicious juice in just seconds with this powerful compact juice fountain. Not very suitable to juice greens but for carrots, beets, celery, apples this juicer is just plain perfect. It is compact in size and measures 10.4 x 5.5 x 12.6 inches. Will easily fit a small kitchen. It's very convenient to handle as the weight of the juicer is not heavy and weighs only 6.55 pounds. The product warranty is 2 years.
The following are the main features of the Aicok AMR 526 Wide Mouth 3-Speed Centrifugal Juicer.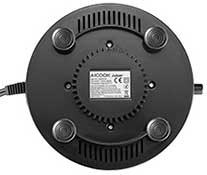 Made predominatly out of plastic material but looks very durable with a sleek modern look. The compact design makes for easy assembly, dismantle and cleaning. With stainless steel blade and mesh filter basket it extracts a higher yield of juice efficiently with more vitamins and minerals.
The safety locking arm prevent the juicer from operating without the cover locked into place. Overload protection prevents over-heating, automatically shutting the machine down when it senses that the machine is overloaded. The anti-drip spout design stops flowing once you lift the spout at the end of juicing. The non slip feet prevents the machine from moving when switched on.
3-speed control Maximizes juice yield from soft, leafy greens and hard fruits. "P" is for the fastest speed, "I" Low speed, "II" Fast speed.
The center feed tube is very large and allows for juicing many different fruits and vegetables without having to cut them, dice them, or remove the skin or rind first.
One of the more thoughtful features of this juicer is that it is easy to clean and can be reassembled in seconds. Some juicers take forever to get completely clean and they also take ten or fifteen minutes to put back together. That is many lost minutes that you can save by using a juicer that is very easy to clean and very easy to put back together. Except for the motor base, All parts are dishwasher safe.
Simple and fast.
Easy to clean and use.
Food grade BPA Free Parts
Not designed to extract juice from leafy greens efficiently.

Smaller feeding chute in comparison to other centrifugal juicers.
Quite a number of people who purchased and used the Aicok AMR 526 Wide Mouth 3-Speed Centrifugal Juicer are satisfied with it. Many people like the compact size of the juicer which they said is enough for one or two people. The ability of the juicer to squeeze juice quickly is also another favorite of some since it fits their busy schedule. They can just serve the freshly squeezed juice immediately. Users who did not give the maximum satisfaction rating did not like size the small size of the juice container as they had to empty it relatively often. Others complained that the feeding chute is not big in comparison to other centrifugal juicers in the same class.
With the ease and convenience features of the Aicok AMR 526 Wide Mouth 3-Speed Centrifugal Juicer and a lot of positive reviews written by the users, we recommend the juicer to everyone who would like to have fresh juice every day. Simple, practical, and a great price. No need to spend hundreds of dollars when this juicer does the job just as well.
Disclosure – Any/all of the links on primejuicer.com are affiliate links from which we receive a small commission from sales of certain items.