Breville JE98XL Juice Fountain Plus
The Breville JE98XL Juice Fountain Plus juicer is a simple to operate juicer and juices whole large apples, pears and oranges in seconds. Providing not only the power to get through it, but the ability to put them through the machine with little to no prep work. The patented direct central feed system for maximum juice extraction produces approximately 8 ounces of juice from a whole apple in about five seconds and comes with 1-liter juice jug with froth separator. All materials that come in contact with food are BPA-free, ensuring safe use. 
The overall measurement is 9″ x 16″ x 17″ and comes with one year limited product warranty. The following are the main features of the Breville JE98XL Juice Fountain Plus.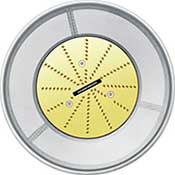 The heavy grade polymer body is built to last.The titanium reinforced disc and Italian-made micro mesh filter basket are made out of stainless steel and together are designed for optimum juice and nutrient extraction. Overload protection prevents over-heating, automatically shutting the machine down when it senses that the machine is overloaded. Safety locking arm prevents the juicer from operating without the cover locked into place. The power cord wraps around feet and clips into position under the base for a reduced counter-top footprint.
The Breville JE98XL Juice Fountain Plus juicer also comes equipped with a fairly large capacity pulp collector ( 2.6qt), which locks in all the pulp as well as seeds and skins giving you only fresh juice.
The advanced 850-watt dual-speed motor features a smart chip to increase power to the cutting disk under a heavy load. The 2-speed selector function allows you to select the right speed for efficient extraction. The high speed setting (12,000 RPM's) cuts easily through denser fruits and vegetables. While the low speed setting (6,500 RPM's) is for things like leafy vegetables and soft fruits.
The unique 3" extra wide chute feed allows you to juice large fruits and vegetables with little to no cutting or preparation.
Smooth, rounded parts without food traps prevent pulp from sticking and make rinsing under the tap fast and simple. All parts except for the mesh filter basket/Nutri Disc and food pusher can be washed on the top shelf of the dishwasher.
It also come with a specially designed scrubbing brush to clean the filter mesh quickly and easily. It is recommeded that you clean the juicer immediately after use to keep the strainer from building up plaque.
Durable heavy-grade polymer body
Stainless Steel filter/blades
Powerful 2-speed motor
Fast juicing time
Froth separator
Extra-wide Feed Chute
Generous sized pulp container
Large 1 liter juice container
Top Shelf Dishwasher-safe
BPA-free
Overload Protection
Easy to operate & clean
Noisier than slow juicer machines
Not so great with leafy greens
Pulp not dry as in masticating juicers
The Breville JE98XL Juice Fountain Plus juicer has received pretty good online reviews from its owners.With an average rating of 4.5 out of 5 possible overall.
One reviewer compared the Breville to a Jack LaLanne Juicer they owned prior to buying the Breville. Mentioning that overall the Breville is a vastly superior machine, with the stainless steel exterior and far easier to clean parts by comparison. They did however mention a minor issue with fruit getting stuck, but when they used the high speed setting rather then low it powered through it with no problem. Another reviewer compared the Breville to a Juiceman Jr they owned and had roughly the same experience as above. And were happy to have to do less prep and clean up work overall with the Breville then the Juiceman.
However, a couple of people have also mentioned that this machine produces a lot of froth and can sometimes leave the pulp very moist. Which to them was a waste, and although this does not seem to have been the case for every reviewer it is worth pointing out as a potential issue. Another reviewer mentioned that while the Breville JE98XL Juice Fountain Plus juicer does a great job on fruits and most vegetables it has a problem with leafy greens, or at least the ones they tried which was spinach and kale.
The Breville JE98XL Juice Fountain Plus juicer is suitable for casual to moderate juicer who needs a durable machine that extracts as much juice as possible without spending a ton of money. This simple no-nonsense juicer is the perfect way to get yourself into the world of juicing.
Disclosure – Any/all of the links on primejuicer.com are affiliate links from which we receive a small commission from sales of certain items.