Hurom HP Personal Series Cold Press Juicer
The Hurom HP Personal Series Cold Press Juicer uses an auger to squeeze out juice instead of shredding fruits and vegetables with high-speed blades like cheaper centrifugal juicers. This natural motion minimizes damage to ingredients, keeping natural taste and nutrition intact. This cold press juicer can process all types of soft and hard produce such as citrus fruits, vegetables, beans, leafy greens and nuts. It can process wheatgrass more efficiently than any 80 RPM vertical masticating juicers. The overall dimensions are 7.6″ (Width) x 6.9″ (Depth) x 15.5″ (Height) and comes with 10 years warranty on motor and 2 years on parts.
Hurom is a leading slow juicer company in the globe and distributes its products to over 50 countries worldwide and the Hurom HP Personal Series Cold Press Juicer comes in trendy colours – White, millennial pink and mint green. The following are the main features of the Hurom HP Personal Series Cold Press Juicer.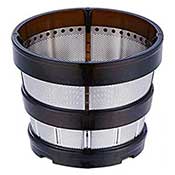 A stylish design with sweeping curves that will catch will everyone's eye. The body and hoppe is made from ABS to resist dents while the chamber is made from tritan. Hurom's heavy duty auger and strainer is made from Ultem polymer and is 8 times stronger than most plastics.
By utilizing a dual stage juicing system the juice is extracted first through the crushing stage then, before the pulp is ejected it is squeezed during the pressing stage resulting in drier pulp and a greater amount of juice. Duplicate safety sensors allow the unit to operate only if the chamber is completely and accurately assembled on the base. A builtin cooling system with integrated heat vents prevents overheating. The small crescent shaped chute measuring 2 x 1.5 inch keeps even small fingers out. You also don't have to worry about blades cutting you or anyone else as there are no blades in this juicer. It's compact size further ensures it will fit on any kitchen counter.
A near silent AC motor works efficiently using only just 150 watts of power and rotates at just 43 RPM squeezes every drop of juice from foods for extreme juice yield. It's slow squeeze technology does not produce heat which could degrade the vital nutrients and enzymes found in the fruits and vegetables you are juicing. This also reduces the chances of oxidation and your juice lasts longer in the fridge. Now you don't have to slow juice every day. You can juice a few liters and store them up for the next 3 days!
Its automatic cleanup system cleans the interior with ease in conjunction with the spinning brush. You will have an easy time cleaning this particular cold press juicer. There are no driving blades and the plastics are minimal. Use included cleaning brush to scrub strainer screens free of pulp residue on both sides. If you clean it immediately after juicing then it really does not take long. Soaking in vinegar and baking soda solutions provides natural disinfecting and bleaching for parts without using harsh or toxic chemicals.
Can process all types of fruits and leafy greens
Can make soy and almond milk
Low-noise and low-vibration motor
43 RPM for extreme juice yield
No oxidation from aeration
Continuous juicing with external pulp ejection
Auger & strainer of strong Ultem polymer
11.8 oz tritan juicing chamber with silicon juice cap
There are no sharp edges
Automatic cleanup system
Safe and BPA free parts
Compact design and counter space friendly
Cleaning brushes
1.4 M cord length
Recessed carrying handle
10-Year Motor Warranty
Narrow feeding chute requires extra preparation time
Masticating juicers are generally slow
Only a 2-year warranty on parts
When researching the Hurom HP Personal Series Cold Press Juicer we found the majority of the reviews are positive, with the average rating being 4 and ½ stars. Most of the people who commented on this product have talked about the juicer's high-quality parts, stating that it is a high quality juicer. There were quite a few reviewers that had positive things to say when compared to a centrifugal juicer that it is extremely quiet and does not have any of the splashing associated with a high velocity chopping blade. One of the things that stands out to most people is it creates a great deal more juice and nutrients than any other juicer they have owned. Many agree that it is a beautiful looking juicer that is pretty quiet.
Even with the great feature of the juicer, there were also a few who found some flaws. One person pointed out that it is a bit difficult to clean the screen, especially the bottom of it where there is plastic in the way. Few users found it challenging to assemble the juicer.
Based on the overwhelming positive reviews of the Hurom HP Personal Series Cold Press Juicer, we feel very comfortable with recommending it to anyone who wants to juice delicious fruits and vegetables each day. It is unlikely that anyone who purchases this versatile juicer will be unsatisfied with the performance. It seems like a very safe investment and is sure to provide delicious juice for many years to come.
Disclosure – Any/all of the links on primejuicer.com are affiliate links from which we receive a small commission from sales of certain items.