Hurom Elite HH-SBB11 Cold Press Juicer
The Hurom Elite HH-SBB11 Cold Press Juicer features some of the most technologically advanced techniques for improved nutritional value while retaining all the natural flavors of pulp and fiber making it a very healthy drink.​ The Hurom Elite Slow Juicer can easily process hard & soft fruits, vegetables, leafy greens, wheatgrass, nuts, and soy to make a variety of juices, milks, sauces, marinades, even baby food, fresh soymilk, nut milks & tofu. This second generation masticating juicer from the house of Hurom is easier to juice and easier to clean with simplified parts and more effective advanced self-cleaning system than previous Hurom models. The overall dimensions are 9.8 x 6.4 x 15.7 inches and comes with 10 years warranty on motor and 2 years on parts.
The Hurom Elite HH-SBB11 Cold Press Juicer comes in two trendy colors – Noble Silver and Red Wine. The following are the main features of the juicer.
Features a contemporary design and constructed from durable materials for long life. The body and hoppe is made from ABS to resist dents while the chamber is made from tritan. It has a vertical design, so foods are fed through a chute at the top of the machine. The food is ground by a twin-winged auger which forces the fruits and vegetables through a strainer. Both the twin-winged auger and the strainer are made from the highly durable Ultem polymer and is 8 times stronger than most plastics.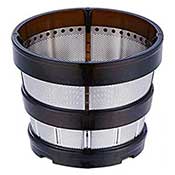 By utilizing a dual stage juicing system the juice is extracted first through the crushing stage then, before the pulp is ejected it is squeezed during the pressing stage resulting in drier pulp and a greater amount of juice. It comes with two Ultem strainers. The fine strainer is for juicing, while the coarse strainer can be used if you want to add more pulp in your juicer.
Duplicate safety sensors allow the unit to operate only if the chamber is completely and accurately assembled on the base. A builtin cooling system with integrated heat vents prevents overheating. The small crescent shaped chute measuring 2 x 1.5 inch keeps even small fingers out. You also don't have to worry about blades cutting you or anyone else as there are no blades in this juicer.
A near silent AC motor works efficiently using only just 150 watts of power and rotates at just 43 RPM squeezes every drop of juice from foods for extreme juice yield. It's slow squeeze technology by Hurom does not produce heat which could degrade the vital nutrients such as Vitamins A and C and live enzymes found in the fruits and vegetables you are juicing. This also reduces the chances of oxidation and your juice lasts longer in the fridge. Now you don't have to slow juice every day. You can juice a few liters and store them up for the next 3 days!
The motor comes with internal cooling so that the motor will not overheat during use and will last much longer because of this.
To give it a thorough cleaning you will need to take the upper portion of the machine off of the base and disassemble the internal parts. They all nest inside one another easily so it comes apart without much effort. It will take a little practice to take it apart and put it back together efficiently. Its automatic cleanup system cleans the interior with ease in conjunction with the spinning brush and it allows you to fill it with water and turn it on to help the cleaning process along. Use included cleaning brush to scrub strainer screens free of pulp residue on both sides. If you clean it immediately after juicing then it really does not take long. Soaking in vinegar and baking soda solutions provides natural disinfecting and bleaching for parts without using harsh or toxic chemicals.
Can process all types of produce
Ultra super quiet operation
Twin-winged Ultem polymer auger
Slow Squeezing Technology
72 hours juice shelf life
Continuous juicing with external pulp ejection
Two juicing screen, fine and coarse
Automatic cleanup system
Safe & 100% BPA Free
16.9 oz juicing chamber with silicon juice cap
Contemporary design
Constructed from durable materials for long life
10-Year Motor Warranty
Narrow feeding chute requires extra preparation time
Masticating juicers are generally slow
Slightly expensive but the features justify it
Only a 2-year warranty on parts
The reviews for the Hurom Elite HH-SBB11 Cold Press Juicer are great. In fact, it carries an average customer rating of 4 stars out of a possible 5. This juicer machine is beloved by many reviewers because more juice was made with this juicer than other juicers they have used because of the slow extraction method it seems to get every last drop. One user says that her move from a centrifugal juicer to this slow juicer has drastically changed her juicing habits. Her juicing process has gotten longer, since she have to chop fruits and vegetables up into smaller pieces. But the upshot has been that her juices have gotten much tastier and have a lot more juice out of the same ingredients. She is not leaving anything behind in the pulp as it's coming out much drier. Her old centrifugal juicer was so much wet pulp.
Some users complained that they need to be a little careful how much they place in the hopper at once and the size of pieces loaded so it operates smoothly. If you chop your produce into small pieces it just makes the whole experience smooth and pleasant. But haven't had much of a problem with it jamming, the reverse feature always solves the problem when they put too much in the chute.
The majority agree this is a great all around product.
The Hurom Elite HH-SBB11 Cold Press Juicer performs amazingly well and features some of the most technologically advanced techniques for a better job at really squeezing and extracting the juice. It is a quality juicer for anyone looking to make a lot of juice. The features justify its price.
Disclosure – Any/all of the links on primejuicer.com are affiliate links from which we receive a small commission from sales of certain items.