Mueller Juicer Ultra 1100W Juice Extractor
The Mueller Juicer Ultra 1100W Juice Extractor has a sleek modern stainless-steel design with a low counter-top footprint. Engineered to extract more juice, vitamins and minerals all while being easy to clean and assemble in seconds. You will be able to create a 16 oz cup of juice in just 8 seconds with no clogging and less foaming. It is well constructed and not to bulky. The dimension of the juice extractor is approximately 16.8 x 13.5 x 9.2 inches. To bring more satisfaction to the users, the juicer has a two-year warranty.
The following are the main features of the Mueller Juicer Ultra 1100W Juice Extractor.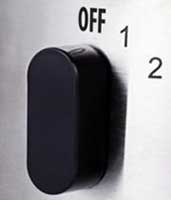 Designed in Europe with a sleek and chic design that will fit any size or style of kitchen. It is a very powerful juicer with a 1,100 watts motor which can quickly extract juice from fruits and vegetables. It is equipped with a culinary grade stainless-steel cutting disc surrounded by an Italian made micro mesh filter for cutting fruits and vegetables to very tiny pieces. Designed with an anti-drip function which avoids spillage and all food zones are BPA-free. Suction cups on the bottom help to hold the juicer firmly in place on the counter.
The juicer features an extra large 3-inch wide feed chute which allows whole fruits or vegetables to be inserted in the mouth, making the process a short one and saving much time.
The juicer also features a safety locking arm to make sure the cover stays on tight while operating. The overload protection system shuts off the juicer if the motor were to overheat from an unstable power supply, improper assembly, idle run, etc.
It features two speed settings for the proper speed to extract juice. The low speed runs from 12000 to 15000 RPM for softer fruits like oranges and tomatoes, while the fast speed runs from 15000 to 18000 RPM for harder fruits like carrots, celery, beets, kale and many others.
The juice extractor is easy to take apart and has dish-washer friendly parts which make cleaning them a snap. For easy cleanup, it's best to clean up the juicer parts right away by running them under water.
It is good idea to put a plastic bag in the pulp bin to make clean up even easier. The blade is the only tricky part to clean but a really great brush is included in the box so that helps a lot.
Solidly made. Cleans up easy.
It is relatively less noisy than other centrifugal juicer in its class.
Packs more functionality at a lower price.
Quite a big number of people bought the Mueller Juicer Ultra 1100W Juice Extractor and most of them are satisfied with the performance of the machine. Without having to spend time in cutting up the things one has to put in, many reviewers give it five stars. They liked the power of the juicer and its sleek and beautiful design. Another feature which is particularly liked by the users is the easy clean up after using this machine even without using a dishwasher. Overall, most think this juicer is a great value for the money. Most recommend this machine to everyone.
Even with the great feature of the Mueller Juicer Ultra 1100W Juice Extractor, there are also a few who found some flaws in the juicer. Some had complained of juicer breaking down after couple of uses. They were unfortunate to receive defective units and managed to get replacement units from the company. A user had commented that the company has amazing customer service.
The complaint of moist pulp is not necessarily a fault of the machine. All centrifugal juicers are not expected to be as efficient as cold-press juicers to produce less waste. Here is a tip. If you need to extract more juice you can strained it through some cheesecloth or run the pulp through the juicer again.
Finding an affordable juicer without sacrificing quality is not very easy nowadays. This product has the ability to extract juice from most fruits and vegetables efficiently. With the Mueller Juicer Ultra 1100W Juice Extractor's great features which serve the purpose of a general juicer at a great price, we can recommend this to anyone who wants to have an all-purpose juice extractor. You probably can't get a better juicer for the price.
Disclosure – Any/all of the links on primejuicer.com are affiliate links from which we receive a small commission from sales of certain items.