Should You Get an Extended Juicer Machine Warranty?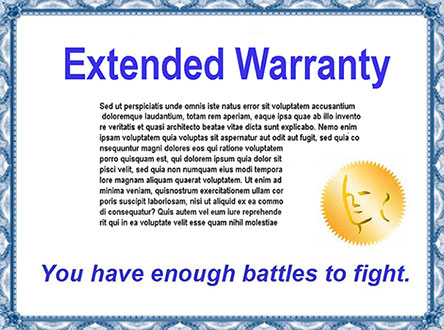 A juicer machine can be fairly expensive, so as a smart shopper your may want to know if it is necessary purchase an extended juicer machine warranty to protect your investment. There are a number of ways you can protect your machine in addition to buying an extended juicer machine warranty.
One way would be to carefully research a number of machines before you purchase one. If you do your due diligence you will give yourself the highest probability of purchasing a juicer machine that will offer you many years of reliable service.
Another way to protect your investment is to make your purchase from a retailer that has a good return policy. If there are any problems, you can simply return the item for a new one.
Standard Juicer Machine Warranty
The obvious benefit of a warranty is that it provides an extra layer of protection in addition to the return policy of the retailer you buy your machine from. For a lot of retailers the return policy might be 30 to 90 days but the warranty will cover you for a year or more if you should receive a defective item. If something breaks you will be able to have the machine repaired or replaced for free, although you may need to pay to have the machine shipped to a repair center.
It will be a good idea to purchase a juicer machine with a good warranty. Some of the cheaper models may have warranties that are only one year long or less but some of the more expensive juicers on the market have warranties that last for up to 10 years.
Extended Juicer Machine Warranty
The obvious drawback to a warranty is that it will expire at some point. Hopefully you won't run into any problems but if you do, hopefully those problems will occur when the item is still under warranty. Another drawback to a warranty is that there are certain things that you could do that would void your warranty. It is a good idea to read the manual that comes with your machine very carefully. Make sure you clean and maintain your juicer properly to avoid doing anything that would void your warranty.
With most extended warranties you will have a number of options. You could purchase a one-year, a two-year or even a four-year warranty. Generally speaking a one-year extended warranty may cost about a third of what you paid for your machine. A two-year warranty will cost more than half of what you paid for your machine and once you get beyond a two-year warranty you may end up paying as much for the extended warranty as you paid for the machine in the first place.
Extended warranties – are they worth it?
Regardless of the machine you are talking about, 99% of the time we would recommend against buying an extended juicer machine warranty. Extended warranties are offered by companies because they are an excellent revenue stream. The companies selling them make a lot of money and there is very little chance that the person buying the extended warranty will ever cash in this little insurance policy.
If your machine is going to have problems they will most likely occur during the retailer's return policy period or during the warranty period that already comes with machine that you purchased.
It makes more sense to us to take your chances and in the worst case scenario just buy another, brand-new machine. If the machine you purchased is having that many problems you may not want that machine to be repaired or replaced anyway and it may be a better idea to purchase a different model that may be more reliable.
Disclosure – Any/all of the links on primejuicer.com are affiliate links from which we receive a small commission from sales of certain items.