Breville BJE430SIL Juice Fountain Cold
The Breville BJE430SIL Juice Fountain Cold is perfect for everyday use with plenty of power and a smart design that allows for fast clean up along with easy reassembly. Using their proprietary Cold Spin Technology and Elevated Juicing System Breville has found a way to overcome the low shelf-life of juice extracted from centrifugal juicers. Breville's Cold Spin Technology has been shown to transfer less than 1.8°C while extracting juice and minimize damage to delicate vitamins and minerals.
Typically, juice coming from high-speed centrifugal juicers only last for 24 hours but the juice from the Breville BJE430SIL Juice Fountain Cold can last for up to 3 days when kept in refrigerator with the supplied 70 oz. Seal and Store Juice Jug. Juice more, store more and clean less.
The compact juicer measures 14.5″ x 10.5″ x 17.6″ and comes with 1-year limited product warranty. The following are the main features of the Breville BJE430SIL Juice Fountain Cold.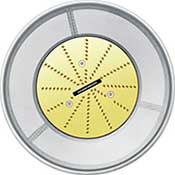 The Breville BJE430SIL Juice Fountain Cold is an innovative product that incorporates Cold Extraction System to minimize the heat generated in extracting the juice. The 850 watts motor processes even the toughest fruits and vegetables in just seconds. The stainless steel cutting disc surrounded by an Italian-made mesh filter juices quickly and easily.
This powerful juicer features a large 3-inch feed chute that can accommodate whole tomatoes, carrots, and even small apples. This makes it a great choice for those that don't want to spend all their time cutting up vegetables and fruits before they start juicing.
The custom designed juice nozzle allows mess-free juicing straight into a glass by simply inverting the nozzle when finished to avoid juice drips. The smart design of the juicer includes a very large 3.4L pulp bin, which makes it great for continual juicing without having to stop to empty it. Safety Locking Arm stops operation when cover is not locked correctly into place.
The juicer is fitted with two-speed electronic control. High speed for denser fruits and harder vegetables at 1300rpm, and low speed for leafy vegetables and soft fruit at 6500 rpm.
Cleaning the juicer cover, stainless steel filter bowl, purée disc and juice jug is made easy, as most parts are dishwasher safe and will easily fit into any sized dishwasher. It also comes with a scrubbing brush, which is perfect for cleaning out the tiny bit of pulp from the mesh filter. Most of the time, you can completely have it cleaned and ready for use again in less than 10 minutes. This means that you can use it every single day without having to worry about spending your entire day cleaning it up. You could even use it more than once a day if you really want to.
Very powerful and juices effortlessly.
Juice comes out perfect.
Known as one of the easiest juicer to clean after use.
High speed juicers tend to be noisy.
Not the best for leafy greens.
In the research that we performed for the Breville BJE430SIL Juice Fountain Cold, we found that the thing users praised the most was that this juicer is so powerful that it has no problem juicing tough things like carrots and apples, and that very little moisture is left in the pulp container. Many other reviewers have been impressed with the fact that the juicer is so much smaller than other juicers, but still produces more juice and in a shorter amount of time.

Assembly and clean-up is super-easy according to most of the people who reviewed this juicer. People who had used earlier Breville juicers such as the Elite or Duo feel the Breville BJE430SIL Juice Fountain Cold to be much quieter, lighter weight and efficient.
There were some negatives that people reported. In our opinion, in taking a balanced look at both the positive, neutral and negative reviews, we think that the one issue with those who were not happy with the juicer is that it leaves a moist pulp when juicing greens such as kale leaves or spinach. This is not necessarily a fault of this particular model but that all centrifugal juicers share a similar problem. While the Breville may not get the greens quite as dry but the time saved is amazing. If you are a serious juicer and want your greens, then do not buy this juicer. You will be better off buying a masticating juicer.
We feel very comfortable recommending it to those who want to do their own juicing and live a healthier lifestyle. It is one of the better quality entry level juicer which is solid enough to stand the test of time, which will save money in the long run. It's unlikely that anyone who uses this product will be unhappy with the performance, ease of use, cleaning, or any other aspect of the juicer.
Disclosure – Any/all of the links on primejuicer.com are affiliate links from which we receive a small commission from sales of certain items.