Hamilton Beach 67650 Big Mouth Pro Juice Extractor
When compared to other juicers, the Hamilton Beach 67650 Big Mouth Pro Juice Extractor has more premium features than other centrifugal model and ranks in the top, for beginners to juicing as a healthy lifestyle. Similar to all high-speed juicers, this juicing machine can squeeze quite a large amount of juice and doesn't disappoint on the quality of juice. It is in expensive and east to operate. If your lifestyle is built around a fast-paced schedule, the Hamilton Beach 67650 Big Mouth Pro Juice Extractor is a great choice. Just assemble it, flip the switch and you're good to go to make healthy and delicious juice quickly and easily.
The following are the main features of the Hamilton Beach 67650 Big Mouth Pro Juice Extractor.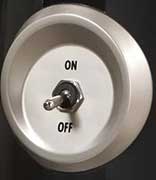 The Hamilton Beach 67650 Big Mouth Pro Juice Extractor has been designed with features that make juicing extremely convenient. It is a durable machine with diecast metal locking latches for keeping the lid on rather than cheap plastic latches that are easy to break. The stainless steel cutter/strainer juices quickly and easily. It has a large bin to accommodate the pulp to enable continuous juicing with no need to empty it halfway during extraction. The one-speed centrifugal juicer also has a commercial-grade ON/OFF toggle switch for turning the machine on and off easily.
It comes with an extra-wide 3 inch diameter chute that is large enough to accommodate whole fruits and vegetables to reduce preparation time. To extract the maximum amount of juice every time, gently guide food down the feed chute slowly so that juice doesn't spray out of the spout.
The juicer machine is also equipped with a spout that has been designed high enough to funnel juice into various sizes of containers and glass without spillage. All food zones are BPA-free and the supplied container doubles as the serving pitcher to lessen the number of parts to clean up after usage. The Hamilton Beach 67650 is designed for easy assembly, handling operating and storage.
One of the big advantages of centrifugal juicers over more expensive masticating juicers is that they are quick. Its 1.1 horsepower motor can extract the liquid from even the hardest-textured produce including skins, stems, stalks and peels.
The juicer is easy to take apart for cleaning and then reassemble when cleanup is done. Its removable plastic parts can be safely put into the dishwasher. For easy cleanup, wash it immediately after juicing by running the unit's stainless steel strainer basket under water. While its strainer basket will typically have fruit or vegetable fibers on it  but it can be easily brushed off with the complimentary cleaning brush made of soft micro bristles. The pulp bin is quite big and is one of the hardest part to clean next to the cutting disk. But here's a tip…Place a plastic grocery bag in the pulp bin container to collect the pulp and once you're done juicing simply discard it.
3 year motor warranty
High horsepower
Pulp can be a little wet. 
Makes a lot of noise.
According to our research the Hamilton Beach 67650 Big Mouth Pro Juice Extractor received high marks from most users and we feel that it deserves its 4 star rating. The majority of the reviews were positive and there were a number of things that people liked about this juicer. Two of the biggest benefits are that it produces juice quickly and that it is easy to clean.
Typically the motor warranty is a good indicator of motor durability. This machine comes with 3 year motor warranty when most low cost machines comes with average limited motor warranty of only one year. This shows that the manufacturers are confident with the durability of their product.
Novice juicers typically want zero waiting time when it comes to the extraction of their juice. The Hamilton Beach 67650 Big Mouth Pro Juice Extractor is perfect for those who want their juice quick and fast on the draw because it will not disappoint. In short, it's a great machine to get you started with juicing. Considering the price to the functionality it offers, this machine can give you the best bang for your buck.
Disclosure – Any/all of the links on primejuicer.com are affiliate links from which we receive a small commission from sales of certain items.