Breville 800CPXL Citrus Press Pro
The Breville 800CPXL Citrus Press Pro is a great choice if all you want to do is extract juice from oranges and other citrus fruits. It squeezes juice from the fruit by using a power-assisted lever and a spinning cone. When juicing is complete, simply close the drip stop spout, lower the main arm and eject the fruit peel.
It is an industrial-strength machine that is very powerful yet whisper quiet. It is not only functional but it also has a brushed stainless steel housing that is aesthetically pleasing and it makes a wonderful addition to any kitchen. Made in the USA with small footprint and measures 11″ x 9″ x 18″, and comes with 1 year limited product warranty.
The following are the main features of the Breville 800CPXL Citrus Press Pro.
Breville 800CPXL Citrus Press Pro is a powerful citrus press housed in professional-grade die-cast brushed stainless steel. Its stainless steel resists the corrosive effects of the acids in the citrus juice it produces. You can feel comfortable that your unit will last many years.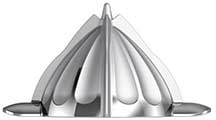 Despite the small size of this juicer, Breville has managed to squeeze in some very important extras. Key design criteria of the Breville die-cast citrus press were ease of use and efficiency. It's easy to operate by pressing down on its handle. A revolutionary active-arm system with sensors built into the juicer monitor prevents the juicing cone from rotating until the arm is lowered.
Unlike other citrus juicers which come with a variety of reamer sizes to suit the different sizes of citrus fruits, the uniquely finned and undulated juicing cone extracts the maximum juice from all sizes of citrus fruit. Breville claims that their universal reamer will work just as well with a lime as it will with a grapefruit. Its two filters let you choose between pulp-free or pulpy orange juice. The convenient and innovative drip stop system holds juice back to avoid spillage onto your countertop.
It only takes 4 seconds to juice each fruit half with minimal effort.
The Breville 800CPXL Citrus Press Pro is easy to clean and come with detachable parts. The whole collector assembly can be removed as one piece and taken to the sink or dishwasher.
Sturdy, durable yet attractive design
Solid Die-Cast Base.
All Stainless Steel Juicing Cone.
Stainless Steel Filter Basket.
Soft Grip Handle.
Extracts juice quickly and quietly
There are hundreds of reviews online for the Breville 800CPXL Citrus Press Pro and the reviews are quite good. The average user rating for this product is 4.5 out of 5 stars. The overwhelming majority of the reviews are positive with many reviewers agreeing that this is the highest quality consumer grade citrus juicer on the market.
People even like the aesthetics of this Breville juicer with some reviewer referring to it as a work of art. Most people consider the combination of mechanical pressing and motorized turning is brilliant and allows you to extract every bit of juice from citrus fruits. The juicer is well built and very sturdy, it is also easy to use and easy to clean.
The Breville die-cast series sets the standard for those who demand restaurant quality juicer at home. It outclasses other citrus presses with its convenience, ease of use and efficiency. An investment that will pay for itself.
Disclosure – Any/all of the links on primejuicer.com are affiliate links from which we receive a small commission from sales of certain items.