Omega VRT330 Vertical Single-Auger Low-Speed Juicer
The Omega VRT330 Vertical Single-Auger Low-Speed Juicer is a revolutionary product, as it features the high efficiency of a masticating style juicer in a vertical design. Designed and engineered for health conscious individuals who want a greater variety in their daily juicing routine, the VRT 330 has the ability to juice everything from fruits, vegetables, leafy greens, even wheatgrass! Get the greatest amount of juice from the least amount of produce. Makes a full-bodied, pulpier juice compared to other juicers. Add a variety of fruits and vegetables with minimal prep work thanks to the juicer's wide feed-chute opening 2.25″ by 1.25″.
User friendly – easy to assemble, operate and clean. Small footprint takes up minimal space on your countertop. Size 17″ (H) x 9 4/5″ (L) x 7″ (W) and comes with full 10 Year Limited Warranty. The following are the main features of the Omega VRT330 Vertical Single-Auger Low-Speed Juicer.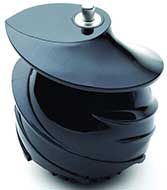 Heavy-duty construction using the highest quality materials for long-life. Engineered for quiet operation to produce juice using the mastication method, where fresh juice comes from squeezing rather than grinding. Employs Dual Stage Juicing where the produce is first slowly crushed and then the pulp is pressed against the heavy duty juicing screen to squeeze out the juice; resulting in more juice, and extremely dry pulp. The patented screw design of the auger is more efficient when squeezing and pressing ingredients to extract juice. Built-in "reverse" prevents clogging.
Easy to assemble, the hopper is conveniently located at the top of the juicer and attaches to the bowl, which then attaches to the base. The VRT330 also features two spouts and two 50-ounce containers – one for fresh juice and one for pulp ejection. The VRT comes with a pusher to push ingredients into the juicer.
It is equipped with a very quiet commercial condenser brushless 2 HP motor and operates at 80 RPM, whereas most other juicers process at a speed of 1,650 to 16,000 RPM. The low speed protects and maintains healthy enzymes, prevents oxidation and allows juice to be stored up to 72 hours without degradation.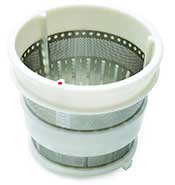 This juicer utilizes a silicone wiping blade, much like the wiping blade on your car that ensures the juicing screen stays clear of excess pulp. The stainless steel juicing strainer sits inside this wiping blade that keeps the juicing screen clear of buildup during the juicing process. You can also pour water through the chute to self clean the juicer when changing ingredients. It is really easy to clean everything by hand, taking only a few minutes to complete this task. Use the cleaning brush to scrub the remaining pulp out of the juicing mesh screen. This is the part that actually takes the longest because of the tiny mesh holes.
If you don't have time to wash it immediately after juicing, simply soak it in water for about 10 minutes to soften up the pulp before attempting to clean it. However, it is highly recommended to wash the parts right after juicing.
Low 80 RPMs to retain nutrients
High juice yield ­ very dry pulp
Continuous juicing with automatic pulp ejection.
Easy to Use
Quiet operation
Auto-Cleaning System
Fine dual stage juicing screen
Coarse dual stage screen
Feed chute opening 2.25″ x 1.25″
Built-in "reverse" to prevent clogging
One juicer for all your needs
Attractive in any kitchen
Two 32 ounce juicing cups, Tamper and Brush
Heavy duty construction for long life.
10 Year Warranty
Masticating juicers are typically slow
Prone to getting clogged, so you'll have to cut your produce into small pieces
Overall, the Omega VRT330 Vertical Single-Auger Low-Speed Juicer has ranked pretty highly in consumer reviews with more than 50% of the reviews being 5 stars. Most reviewers agreed, that the Omega lives up to its claims of being simple to use and clean up after-wards. And also, that the machine itself runs pretty quietly, compared to some other juicers currently on the market, and it does not get out of balance during operation even when used on soft foods or those with skins which have a habit of making centrifugal juicers dance off the table top. This one does not, so is overall alot safer to work with.
Keep in mind though, the reviewers that had problems had pretty serious ones. And even some of the 5 star reviews made mention of some of the same things. Such as the fact that the plastic strainer basket breaks very easily, due to it being made of a weak plastic. If you use it infrequently, it will probably not be a problem but the users who reported the most problems used it regularly and saw it break within a couple months. It was also mentioned, that for a few people the auger wore out after a couple months however the majority of reviewers did not experience this problem so it may not be a product-wide issue.
Overall the machine performs pretty well, and gives out excellent quality juice. And if you do happen to encounter one of the problems mentioned above, Omega customer support has been noted to be very helpfull and quick to replace parts.
In the end, we recommend this product. As while it does have its quirks as some have encountered, it is a great machine for the money. Even though when compared to centrifugal juicers it is more expensive then the average but the quality of the product overall and customer service make up for it.
Disclosure – Any/all of the links on primejuicer.com are affiliate links from which we receive a small commission from sales of certain items.