Tribest SS-9002 Solo Star II Single Auger Juicer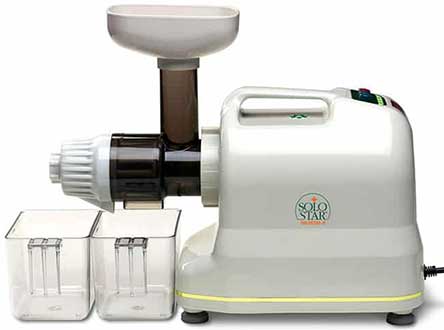 The Tribest SS-9002 Solo Star II Single Auger Juicer is the second generation juicer in SoloStar's line of juicers and aims to set the bar high for other single auger juicers. It is a horizontal auger type juicer and can handle all of your toughest juicing jobs, from wheat grass to pine needles quickly and effortlessly.
It also can handle many other kitchen tasks. Use the Tribest Solo Star II to make nut butters, pates, and delicious sorbets right at home. With the included accessories, Tribest Solo Star II can also easily convert into a Pasta Presser. Use your favorite ingredients to make your own fresh spaghetti or fettuccini type pasta noodles. Add different juices to your pasta dough to enhance flavors, and create exciting new colors. The Tribest Solo Star II can also be used as a grinder and mill. Grind, chop and mince your favorite spices, or use the mill to make delicious rice cakes right in your own kitchen.
The Slow Star II juicer comes with a 5-year warranty on the whole juicer and the following are the main features of the Tribest SS-9002 Solo Star II Single Auger Juicer.
Expertly designed and constructed from only the finest and most durable materials. SoloStar is UL & CE approved and meets the highest manufacturing standards. It is a horizontal auger type juicer and works great for juicing leafy greens. It uses an improved Dual-Stage juicing process to make the juicer more efficient by ejecting much dryer pulp, which means you get more juice out of your produce. Solo Star-II features improved and larger auger, and advanced filtering technology that effectively forces produce through the grinder while enhancing the SoloStar's simplicity of operation. Its straightforward design and precise assembly ensures trouble-free juicing for years.
The motor is rated at 180 watts and has an extremely low 80 RPM rotation. Its extremely slow rotation speed ensures that juice extracted with the Tribest Solo Star II is of the highest quality, and of the best flavor, with no heating of the juice. Less oxidation of the juice can contribute to more of the living enzymes and nutrients being extracted intact. Because of the low rpm the juicer is very quiet.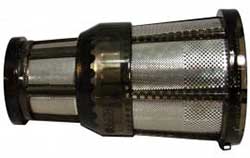 Horizontal juicers like this will only take less than five minutes to disassemble and clean up. Since it has a larger auger and screen, it will take a little longer than a juicer with a smaller screen but the difference is just a few minutes plus it comes with a cleaning brush that can be used on to clean the screen.
Extended auger to extra more juice
Low 80 RPM to retain nutrients and enzymes
Great to use on wheatgrass and leafy greens
Juice container included
Can also be used as a grinder or mill
Includes accessories for making flat pasta, round noodles and for milling mochi
5 Year Limited Warranty
Takes time to juice
Small feed chute means you'll have to pre-cut fruits like apple or lemon
The average rating online for this juicer is 4.5+ which is pretty good overall. From the user reviews even those who have experienced minor problems with their juicer still love using it, and view them typically as minor inconveniences.
The SoloStar II works very well for them, being very simple to operate and clean up. As most of the parts only require rinsing aside from the screen which needs some additional cleaning with a brush. Others followed up largely agreeing with the above and also mentioning that this machine unlike others they have owned in the past is very quiet. And operates by far more effectively with the slow speed and single auger design.
Overall, the Tribest SS-9002 Solo Star II Single Auger Juicer seems like a good juicer that won't end up costing you an arm and a leg unlike what you commonly see. If you love green juice and want more yield, then take a long look at this juicer. Professional quality at an affordable price make Solo Star-II the practical low-rpm single-auger juicer.
Disclosure – Any/all of the links on primejuicer.com are affiliate links from which we receive a small commission from sales of certain items.