Vertical vs Horizontal Masticating Juicer – Which is Better?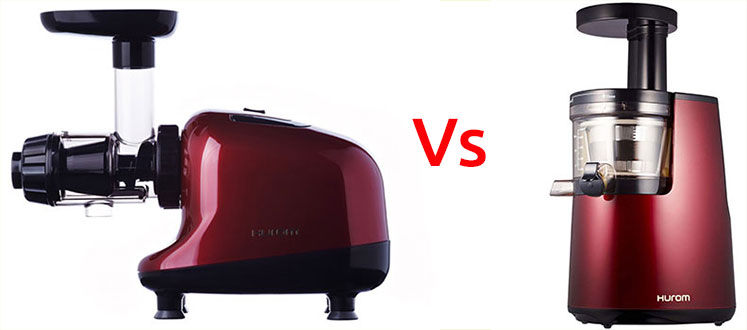 If you have already decided that a masticating juicer is the best juicer machine for your needs, you may have questions about the pros and cons of vertical vs horizontal masticating juicer to decide which you want to purchase. Each design does something that the other is not able to do. So to answer the question it really depends on exactly what you're looking for. Below we will outline some of the differences of each design so that you can make your decision.
Vertical Masticating Juicer
The vertical design is newer and has only been on the market for a few years. There are a couple of advantages to the vertical design however. You will usually find that vertical design have a larger feeding chute than their horizontal counterparts. This decreases your total juicing time as you don't have to do as much preparation by chopping the fruits and vegetables into smaller pieces. In addition the vertical design is able to produce juice faster than the horizontal design as the produce almost goes directly through the feed chute into contact with vertical augur.
The other benefit of a vertical masticating juicer is that it will take up less counter space for obvious reasons. If speed of juicing and/or counter space are some of your primary concerns then a vertical masticating juicer would be the right choice.Horizontal Masticating Juicer.
Horizontal Masticating Juicer
In the horizontal design, the augur is rotating in a horizontal manner and hence, you need to use the pusher more frequently to get the produce down the drum into contact with the augur. Horizontal masticating juicers tend to be slower. It is important to know that slow juicing does prevent oxidation and ensures the enzymes, vitamins and minerals remain intact. If you intend on juicing a lot of leafy greens like wheatgrass, kale, spinach and chard, you will be better off going for a horizontal masticating juicer.
A horizontal masticating juicer is a little bit more versatile with a number of non-juicing functions as well through the use of attachments. You will be able to homogenize foods and you can make things like peanut butter, baby foods, frozen desserts, salsa etc.
What you are looking to get from your juicer?
Your eventual decision will largely depend upon what you are looking to get from your juicer. The slower horizontal masticating juicers are better at juicing leafy greens. Most vertical masticating juicers struggle with leafy greens. On the other hand, to create juices using a wide selection of products and benefit from quick speed then a vertical masticating juicer will make a good choice. If you value the ability to do some of the other things mentioned above like making baby food or peanut butter then a horizontal juicer would be the better choice. Both are great inventions, it just depends on your personal preferences!
Disclosure – Any/all of the links on primejuicer.com are affiliate links from which we receive a small commission from sales of certain items.