Centrifugal Juicer Vs Masticating Juicer – Which should I buy?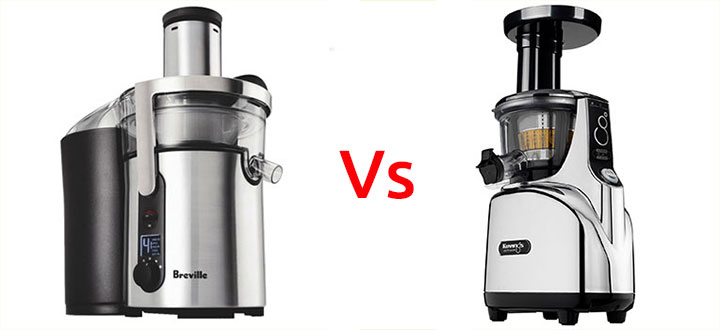 Centrifugal Juicer Vs Masticating Juicer – What's the Difference? Which is better? To answer these questions it is important to understand that these juicer machines work differently, and it will be useful to the know difference if your planning to invest in a juicer.
A Centrifugal juicer is the most popular type of juicer available today. When you see a juicer being advertised on a television infomercial or when you go into a local retailer, you will most probably see a centrifugal juicer first. They are very quick to produce juice and do not require much preparation of the ingredients.
They are designed with a large feeder chute in which you place your ingredients. You then push down gently with the plunger supplied. The ingredients are funneled into the spinning chamber where they are squished and shredded to a pulp very fast by a sharp blade that spins at high revolutions. The juice is spun out through a fine metal mesh into a jug and the pulp is channeled into a residue bucket or pot.
Once you have finished juicing, the unit can be unclipped very quickly and rinsed under the tap to remove the fruit juice and remaining solids.
The advantage of centrifugal juicers is the speed at which a juicing job can be done. After inserting your fruits and vegetables you will have juice pouring into your glass in a matter of seconds. Another major benefit for a lot of people is the fact that a centrifugal juicer is considerably less expensive than masticating juicer.
One drawback of a centrifugal juicer is that it has a difficult time extracting juice from leafy greens and herbs compared to a masticating juicer. Another negative effect of a high-speed motor is that the machine will be louder. Additionally, the pulp generated by a centrifugal juicer is often relatively wet, meaning that some juice goes to waste.
Another disadvantage is the shelf life of the juice. Because of the high speed required to extract juice, the juice gets aerated, or in other words a great deal of oxygen is dissolved into the juice. The oxygen bubbles in the juice causes the juice to oxidize (spoil) quickly. As a result, the juice should be consumed right away and can't be effectively stored for any length of time without loss of nutritional value.
Popular Centrifugal Juicer makers include, Jack LaLanne Power Juicer, Breville Juice Fountain, Hamilton Beach, Waring, Juiceman, etc.
A masticating juicer (also known as cold press juicer) on the other hand use a system of slowly revolving auger or gear. The term masticating is the scientific expression for chewing – and it describes how the machine extract juice. The slow turning auger crush or mash the produce into the screens or walls of your juicer and is able to extract the juices far more effectively.
This type of juicer machine does not make as much noise because they operate slowly and do not have a motor zipping along at thousands of RPMs. The lack of a rapidly rotating blade also reduces the amount of splattering, keeping things quite a bit cleaner. In addition, it is also more versatile and can be used to make nut butter, pates, baby food, sauces, pasta, noodles and ice cream and will also process wheatgrass and lemongrass.
They are not such a beauty in appearance but does its job well. Cleaning is fairly simple, unclip or unlock the parts to scrub quickly. They are more expensive than centrifugal juicers and are available both in horizontal and vertical designs. Popular masticating juicer makers include Omega, Samson, Champion, Greenstar, etc.
In the end all these comparisons between Centrifugal Juicer Vs Masticating Juicer boil down to the price and what you need from a juicer machine. If you have the need for speed a centrifugal juicer might be the right choice for you, but a masticating juicer will usually do a better job and is a much more versatile machine. A masticating Juicer will of course be more expensive because of its technologically advanced features.
Disclosure – Any/all of the links on primejuicer.com are affiliate links from which we receive a small commission from sales of certain items.